Tripawds is a user-supported community. Thank you for your support!
Since taking the cone off, I can't help but think Lloyd looks very naked! His three legged-ness is much more apparent now that he doesn't have the blue thing hiding it but he seems happy enough. Getting back to normal now and bounding around the house, meowing at the top of his voice like he used to.
The pooping is still an issue… He went on Wednesday morning and Friday afternoon but hasn't been since. It's now Monday afternoon. I don't want to keep taking him to the vets because it stresses him out and he doesn't seem in any discomfort and hasn't been straining in the tray so will see if he has been by the morning. Other than THAT seemingly everlasting problem he is doing really good. Wanting to play a lot more and purring a lot.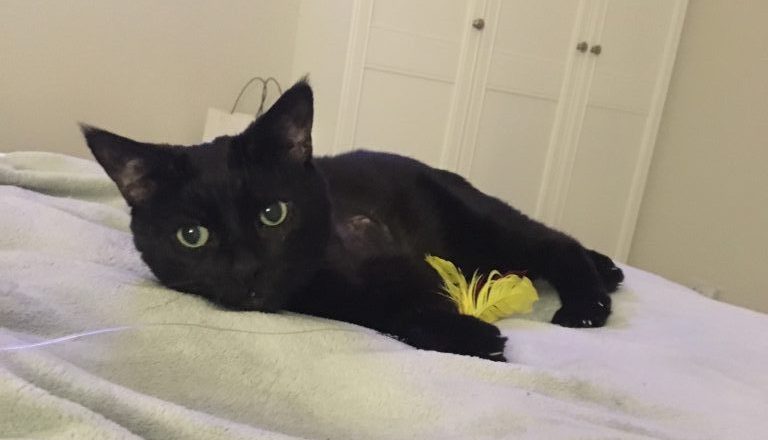 Handsome boy
He also escaped the other day! Russell was in the bedroom with him and left the room forgetting to close the door, I was outside burning some paint off a piece of wood and Russ came out, luckily he did as he spotted Lloyd out the corner of his eye make a break for it. After a short chase around our driveway Lloyd was apprehended on the neighbours driveway, lucky russell did see him as we wouldn't have had a clue where he'd gone and Lloyd might have got caught on something with the collar on.
Then a couple of days later Russell had a floorboard up in the hallway doing some work and Lloyd was in the lounge, when I went in to check on him he was nowhere to be seen, searched the whole house, nothing. We were scared he had gotten out again but couldn't work out how as we hadn't had the door open so i was running around the house shaking his biscuits, Russell was running round the street looking for him when I  heard a faint 'meeeooow'. Lloyd, of course, had gotten under the floor when Russell turned his back for a few seconds! and now the floorboard had been replaced so he was trapped. We took the floorboard back up and managed to coax him out, covered in dust, with some treats and off he went to find more mischief… so our little terror is well and truly back! Couldn't be happier.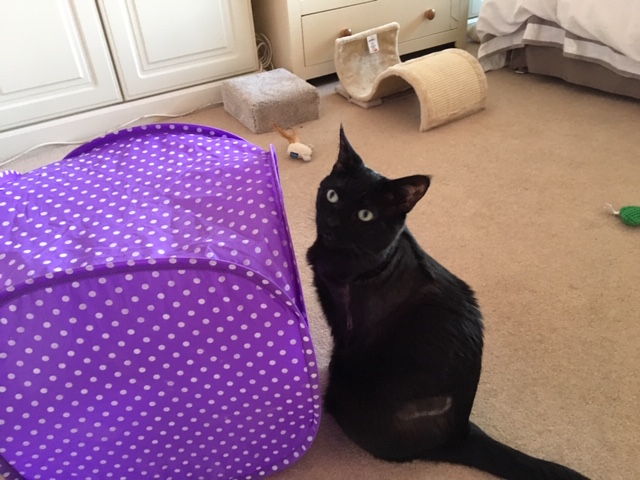 Lloyd just pooped whilst i was writing this update! whoop! 🙂